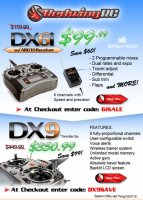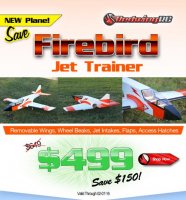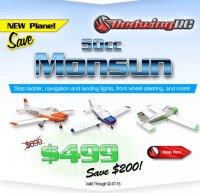 Save $60 on DX6i with Receiver!
Original Price: 159.99
Sale Price: $99.99
THE PROGRAMMING YOU NEED. NOTHING YOU DON'T.
The 6-channel DX6i includes software for airplanes as well as benefits like ModelMatch™ technology and 10-model memory.
Programming the DX6i is about as intuitive as it gets. The combination of its Simple Scroll™ interface, easy-to-read LCD screen and simplified menu navigation will immediately put first-time programmers at ease.
Many programming functions like throttle curves and expo are graphically depicted to give you a clearer picture of the changes you're making
At checkout enter code: 6iSALE
Valid through 02-07-16
www.redwingrc.com
----
Save $99 on Spektrum DX9!
*Transmitter Only
Original Price: 449.99
Sale Price: $350.99
Spektrum AirWare Software. Remarkably Easy to Use.
From its beginnings, the people behind Spektrum technology have constantly sought new ways to make the RC experience simpler, safer and, most of all, more fun. The DX9 is proof positive this relentless spirit of innovation lives. on.
Talk Isn't Cheap. It's Priceless.
While the DX9 possesses a number of class-leading features, the centerpiece is its incredibly advanced voice alert system. In fact, with a lexicon of over 300 words, numbers and phrases, it's quite possibly the most advanced system of its kind ever seen (or heard) in a handheld, 9-channel transmitter.
At checkout enter code: DX9SAVE
Valid through 02-07-16
www.redwingrc.com
----
$150 OFF NEW Firebird Jet!
Original Price: $649
Sale Price: $499
The Firebird is an all wood Jet RC Airplane for beginners.
Easy to fly on grass or tarmac fields, features removable wings for easy transportation, and is the most economical ARF jet on the market!
You will enjoy aerobatics and pattern flights with this Jet Engine Trainer, and not only that, but the Firebird is very easy to land with it's low wing loading.
Valid through 02-07-16
www.redwingrc.com
----

Save $200 on the 50cc Monsun!
Original Price: $699
Sale Price: $499
The Monsun is an exciting airframe to look at and just spectacular to see in the air.
Complete with step ladder, navigation and landing lights, front wheel steering, and more!
The 50cc Monsun is a masterpiece that will amaze you and your friends at the flying field. Get ready for a new flying experience!
Valid through 02-07-16
www.redwingrc.com
----